07 Aug

3 Questions to Consider Before Rebranding

The only thing that is consistent in life is change; everything needs to evolve. Any company's branding does not rely on the product, logo, packages or advertisement alone. It is true that these elements are crucial in formulating the image of a brand, but the brand is the emotion of your potential customers; it is the feeling that bring them closer to your brand. It is important to understand that human feelings are developed as a result of needs and desire, and those needs are bound to change with time. Therefore, it is important to understand the fluctuations in a brand to eventually keep it alive.

To overcome the fluctuations faced by a brand, rebranding becomes essential and slightly more technical in order to get the most out of it, to meet your audience's expectations and to cater to their emotional attachment with your brand; it all becomes crucial indeed. Accurate rebranding requires you to consider a few things such as:
Identify the Problem
The first big step of any solution is to find out the actual problem. Rebranding is a delicate art which required a lot of focus and homework before evolving it for good. However, the solution is not to fix it when it wasn't broken in the first place. You always need to keep a keen eye for a good change but maintain the practices that are already working for you.
Consider the example of Tropicana rebranding. On January 2009, Tropicana changed their iconic packaging with a new one. The old packing shows a straw in a real orange that deliberates the organic, natural and undiluted orange juice and their traditional signature font look. The new packages showcase a glass of orange juice and the traditional font replaced by a more modern font. This changed the complete signature style of Tropicana that resulted in company sales to drop by 20%. One month after rebranding it returned to its older version.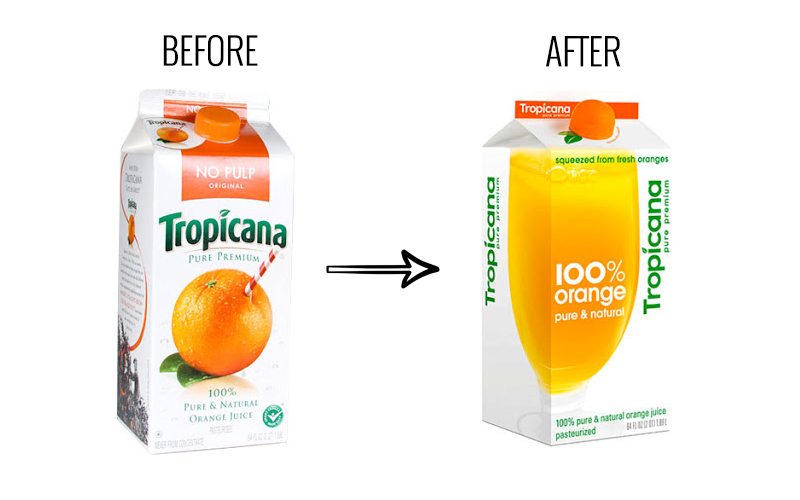 Figure out your Target Demographics
With technology advancement, the generation preferences change too rapidly. The teenagers of millennial would have many different preferences than the baby boomers. Identify your target audience and evaluate how the target audience has changed since the brand launched.
Old Spice is the brand who just completely nail to capture its new target demographics. Until 2010, Old Spice was considered a brand for the older generation and quite an uninteresting brand for its target market. In a brave attempt of enormous rebranding, Old Spice emerged with the idea of a strange, eccentric, and funny video advertisement featuring Isaiah Mustafa. It helped the brand to penetrate in a new demographic by utilising the trends of non-sequitur funny online videos that bequeathed new life to the fading brand.
Is your logo outdated?
Graphics and visual changes at the lightning speed, a high-quality logo design is the best assistance for a brand to stand out. The logo on weak graphics can easily make your brand appear a less professional. The public now has become more class-conscious than ever they need their brand to look fresh and up to date that matches the level of today's generation. A skilful professional logo designer is required here to strengthen your brand's pillar to let you know about ins and outs of style and marketing trends. There is a plethora of example of changing logo with time from Pepsi, Shell to Apple. As a classic example, IHOP restaurant changed their logo from an old-fashioned traditional logo to a more classic and fresh logo which includes a smiley face in its logo design, hence conveying a subtle message of joy and cheerfulness to its targetted audience.